There are so many different aesthetic accounts to follow, admire, and draw inspiration from. 
Aesthetics in their most simple form are principles that usually guide and influence art forms. In more recent years, people have been adopting aesthetics and applying them to different aspects of life and style. One of the main underlying principles for aesthetics is that things should be beautiful. 
For many, adopting and adhering to a single aesthetic is what they consider beautiful. And it is hard for us to disagree! 
Check out some of these popular aesthetic accounts that you can follow on Instagram! AND check out our ScreenKit theme recommendations based on each aesthetic.
For a beautiful, neutral, minimal aesthetic, follow Tiffany Lai, @lai_tiffany who is a blogger, vlogger, and traveler. Her feed is gorgeous, simple, but elegant. 
Themes that reflect a similar aesthetic include our Nude Photo Aesthetic, Cream Lettering, and the Nude Photo theme!
For a cottagecore-like, minimal aesthetic, follow Arielle Tan, @withallmyaffection who is a blogger, creative strategist, and vlogger. She includes so many beautiful cottagecore themes shots on her feed as well as stills from simple living.
@withallmyaffection on IG
Themes that reflect a similar aesthetic include our Cottagecore Photos, Cottagecore, Exclusive Cottagecore, Spring Cottage, and Sage Themes!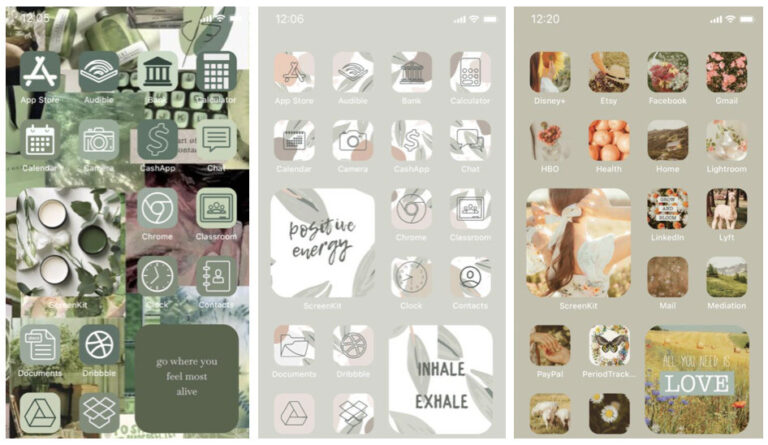 For a simple black and white, minimalist aesthetic, follow Kelsey Simone, @k.els.sey who is a blogger, fashion icon, and brand designer. She owns a clothing line called Simone.
Themes that reflect a similar aesthetic include our Minimalist White Exclusive, White lettering, White Beige, Black Minimalist, Black Lettering, and Classico themes!
For a gorgeous collection of different pattern aesthetics, follow I Have This Thing With Floors @ihavethisthingwithfloors who is an Instagram account sharing photos of different floors they come across. So many feature beautiful patterns, messages, and many different aesthetics.
@ihavethisthingwithfloors on IG
Themes that reflect a similar aesthetic include our Retro, Indie Aesthetic, Retro Colorful, Scrapbook, and Scrapbook 2 themes!
For a different take on cinema aesthetics, follow Color Palette Cinema, @colorpalette.cinema who is an Instagram account sharing different films and the color palettes they have pulled from the film. A beautiful interpretation of another media of art!
@colorpalette.cinema on IG
Themes that reflect a similar aesthetic include our Neutral Color Palette, Earth Color Palette, and Soft Color Palette themes!
Just remember that you are fearfully and wonderfully made & God loves you. Trust in the Lord Jesus Christ!
If you have not yet given your life to Jesus, here's a prayer that will help you devote yourself to God.
Dear God, I come before You today with a humble heart and surrender my life to You. I believe that Jesus Christ is the only Son of God and was born free of sin, died on the cross as a payment for my sins, and rose three days later. Today I invite Jesus Christ as my personal Lord and Saviour. By faith I receive Your free gift of salvation and eternal life because of the holy sacrifice of Jesus Christ. God, today I repent and turn from my old way of life. Lord Jesus Christ, please come into my heart by Your Holy Spirit. God, I thank You for Your love and calling me Your own. In Jesus Name, Amen.