Are you tired of using the standard app icons and home screen theme on your iPhone? If you are, then it's time to customize your home screen to bring a new look that totally fits your personality! With the ScreenKit iOS application, you're able to choose from 100's of different themes, styles and different icons to make your home screen aesthetic AF! 📱
With over 500,000 users enjoying the ScreenKit app in its first month of launch, we're pretty sure you'll want to learn more about what the hype is all about. Read on if you are ready to start customizing your home screen like the below users have already done.👇
Why Should You Customize Your App Icons?
Aesthetic design influences how we feel and think. It affects our attitude about products and even the individuals we interact with. Let's face it, appearance matters. It is also perceived that objects that look appealing are easier to use. 👍
Users are seeking products that are more than just functional. It's important for us to experience pleasure to stimulate our senses. We all want the products we use to trigger positive emotions in us. Aesthetic design is an essential element to satisfy these needs. 👍
How Does the ScreenKit Magic Work? 🧙
With ScreenKit, you'll get access to your favorite app icons and detailed instructions on how you can customize them WITHOUT using Apple's Shortcuts. 🤩 All you have to do is download the ScreenKit app, unleash the artist in you, and start personalizing the icons. Yes, it's that easy and fun, dude! No need to go through a loooong and difficult process just to make your screen look more appealing and edgy. 👌
Subscribers will receive exclusive access to hot new themes and icons that are updated weekly. It's like creating a whole new world on your iPhone whenever you want! 😎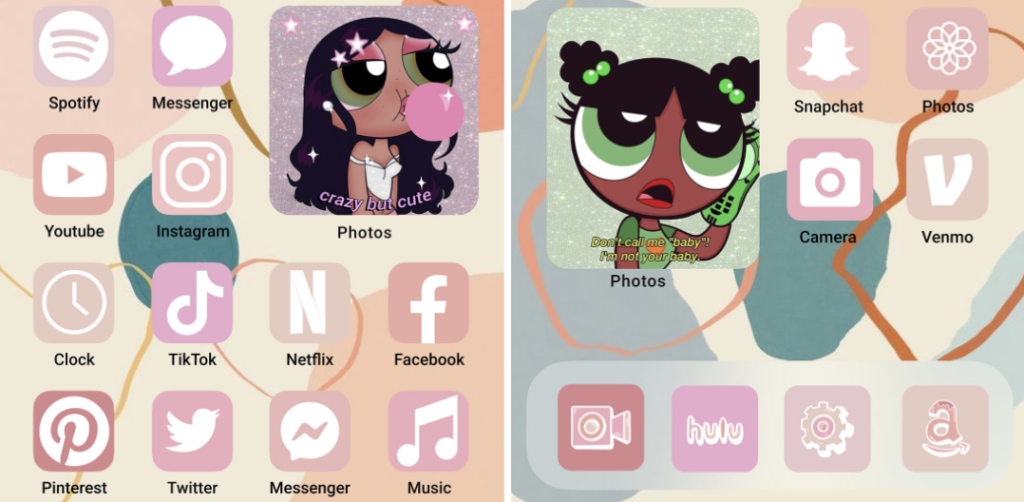 These are just some of the themes that you can get when you download the app, click here to discover all the themes available once you have the ScreenKit app.
The ScreenKit Story 📗 
When it comes to your iPhone's home screen, it's best to choose an app that will provide you numerous options to personalize your app icons. ScreenKit was developed by the geniuses behind Twinstar Creatives. 
With ScreenKit, you're guaranteed to have themes and app icons that will make your friends and relatives wanting the same! And you know what's best? We have more in store for you! So make sure to follow our social media platforms to get the latest news on our next releases.
Instagram: @screenkit.app
Facebook: https://web.facebook.com/screenkitapp
Twitter: Twitter.com/ScreenKitApp
List of App Icons Included
Here's a list of some of the app icons included:
A
Airbnb
Alarm
Amazon
Audible
B
Bank
Bible
Books
C
Calculator
Calendar
Camera
Clock
D
Disney+
E
Email
F
Facebook
FaceTime
G
Google
H
HBO
Health
Horoscope
Hulu
I
Instagram
Internet
K
Kik
L
Lightroom
LinkedIn
Lyft
M
Maps
Mail
Messages
Messenger
Music
N
Netflix
News
Notes
O
Outlook
P
PayPal
Phone
Photo
Pinterest
Podcast
Postmates
Prime Video
R
Reminders
S
Safari
Security
Settings
Shazam
Skype
Snapchat
Spotify
T
Telegram
TikTok
Tumblr
Twitter
U
Uber
V
Venmo
VSCO
W
Wallet
Weather
WeChat
WhatsApp
Y
YouTube
What People Say About ScreenKit
Best ever
"I love it, it makes my life much easier to pick out the icons for my apps I love it"
– just lily
Wonderful!
"This app is amazing! No bugs no glitches!"
– mira12778
Best app ever! 🤩
"I would seriously recommend this app! I've always wanted to fully customize my home screen and apps to make my phone feel more like "me" so now everytime I open my phone I just love it! Best app ever to fully customize your phone."
– christian g
Very good
"It's so easy to do your Home Screen and the options are so cute! I recommend it."
– Hay day lover.
Yesss
"Amazing it really makes me feel great about my phone"
– libbythough
For any questions or concerns, you can contact us at [email protected]. 
Make sure to share this article to spread the word about this exciting new app!
👇👇👇FREE DOWNLOAD SCREENKIT APP (PRESS BLACK BUTTON BELOW) 👇👇👇
Just remember that you are fearfully and wonderfully made & God loves you. Trust in the Lord Jesus Christ!
If you have not yet given your life to Jesus, here's a prayer that will help you devote yourself to God.
Dear God, I come before You today with a humble heart and surrender my life to You. I believe that Jesus Christ is the only Son of God and was born free of sin, died on the cross as a payment for my sins, and rose three days later. Today I invite Jesus Christ as my personal Lord and Saviour. By faith I receive Your free gift of salvation and eternal life because of the holy sacrifice of Jesus Christ. God, today I repent and turn from my old way of life. Lord Jesus Christ, please come into my heart by Your Holy Spirit. God, I thank You for Your love and calling me Your own. In Jesus Name, Amen.